Renee's First Chapters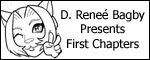 Renee Bagby has an amazing blog that showcases the first chapters of romance books. She now has six of my
books listed
, and the others are coming soon. Stop by and browse the huge variety of ebooks!
Newest additions:

Fearless Love, Beyond the Wall, and Two Wolves are Better Than One.
Coming Soon:

Womankind, Cowboy Domination, and Catch Me If You Can.
Fearless Desires, Damaged Cowboys, and Saving Grace are on my Blog's Sidebar.